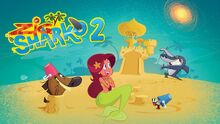 The second season of Zig & Sharko began in 2016 and ended in 2017.

This season, the mermaid decides to set up her own house on the beach. And she invites all her deep-sea buddies to join her. But the stakes have been raised, now the hyena has to win back his own turf
Episode List
This is the list of episodes from Season 2.
| No. overall | No. in season | Title | Written by | Storyboarded by |
| --- | --- | --- | --- | --- |
84
6
Zig Airlines
Hugo Gittard
Pierre Violot
Zig and Bernie have patched up the cargo plane and pretend it can still fly. Marina is excited. She wants to go to China! Once she is on board, Zig hopes to get rid of Sharko and eat the mermaid...
89
11
Let's Dance!!
Nicolas Le Nevé
Louis Musso
A night club opens at the edge of the beach! And since Marina loves to dance, Zig takes advantage to track the mermaid to the sound of the music, much to Sharko's dismay. Let's dance!
94
16
The Conquistador
Hugo Gittard
Alexandre Viano
While Zig and Sharko are busy fighting, a conquistador, fresh off his galleon, shows up on the beach. When he sees Marina he thinks that bringing her back and displaying her in an aquarium could make him rich...
96
18
Spick and Span
Franz Kirchner
Louis Musso
It's cleaning day in the castle! Zig and Bernie take advantage to offer their services as cleaners...And if Sharko wants to protect Marina he'll have to do some cleaning too!
97
19
A Whistle for Sharko
Olivier Jean-Marie
Cédric Guarnéri
To neutralize Sharko and catch the mermaid, Zig and Bernie offer him the perfect lifeguard's kit with a golden board and whistle! But Sharko takes his role so seriously that catching the mermaid is impossible...
105
27
Bodyguard
Hugo Gittard
Pierre Violot
The beach people are attacked by a masked assailant who sprays everyone with ink. Marina takes the threat seriously and when Zig offers to protect her she's delighted. Sharko isn't pleased at all. But who is this mysterious "squirter" anyway?
107
29
A Generous Mermaid
Nicolas Le Nevé
Stéphane Annette
Zig has finally caught Marina and brought her to the cargo plane...At last! But the mermaid isn't afraid of him. She's concerned that Zig and Bernie live in such horrible conditions. And she's going to take care of them!
108
30
Catch a Falling Star
Olivier Jean-Marie
Louis Musso
Marina loses the little starfish she wears in her hair. Bernie falls madly in love with the little creature. The mermaid is distraught as she turns the beach upside down looking for it. But Bernie will do anything to keep his sweetheart...
109
31
Lousy Beach Drivers
François Rosso
Richard Méril
Sharko has a romantic idea: he and Marina will drive in a luxurious car and picnic alone as they take in a beautiful view, like those couples on the covers of dime novels! But then Zig and Bernie get involved...
111
33
King of the Animal World
Nicolas Le Nevé
Pierre Violot
Giant lizards show up on the beach to protect Zig from any harm. For them the hyena is at the top of the food chain and deserves some respect! Zig is delighted but his bodyguards have other plans...
113
35
Tourists
Franz Kirchner
Stéphane Annette
A couple of tourists arrive by boat on the beach. For Marina, it is a great surprise: finally, new faces! But the tourists stiffen with fear when they see Sharko. Marina decides to disguise him to make him cute.
115
37
Rolling, Action!
Nicolas Le Nevé
Olivier Pouchelon
To trap Marina, Bernie organizes a movie shoot where Zig and the mermaid play their real life roles for the camera. Sharko is furious: he isn't selected for the cast! But Bernie is going to take his director's job too seriously.
116
38
Buzzing Around
Hugo Gittard
Louis Musso
Marina is in her castle. Everything is calm and luxurious until an annoying fly spoils the atmosphere. Sharko has a hard time helping Marina get rid of it. That's when Zig and Bernie show up, disguised as exterminators...
119
41
The Invader
Pierre-Gilles Stehr
Xavier Vairé
Louis Musso
An alien shows up on the beach. His mission: capture Marina incognito. Except Bernie spots him, then he does his alien thing: he takes on the crab's appearance and locks the real Bernie inside his spaceship...
120
42
Daddy Dearest
Olivier Jean-Marie
Stéphane Annette
There is an egg, all alone on the beach. Marina takes charge: someone must sit on the egg until it hatches. She asks Zig to do this, but the hyena fails miserably. Sharko must take over this huge responsibility...
122
44
Daddy Little Doggy
Nicolas Le Nevé
Anh-tu Cao
Marina wants a dog and then Zig comes along! The hyena doesn't put up a fuss: as long as he can approach the mermaid he doesn't care. Even if it means playing daddy's little doggy with Sharko?
126
48
The Mummy
Pierre-Gilles Stehr
Xavier Vairé
Anh-tu Cao
A pyramid is discovered on the beach! Marina races inside. Zig and Sharko follow. Marina finds a chamber with a very friendly mummy, while Zig and Sharko get hammered by endless booby traps …
127
49
Movie Night
Hugo Gittard
Louis Musso
Sharko has an idea for a romantic moment with Marina: "let's watch a DVD". But Zig and Bernie put a "Movie" poster on the castle, and this quiet evening turns out to be anything but romantic…
128
50
That Sinking Feeling
Olivier Jean-Marie
Boris Guilloteau
During a chase, Zig, Sharko and Marina sink into the earth's depths. For Marina, it's the chance to recall a childhood experience. For Sharko, it's a total freak-out, and for Zig? An unusual setting for a great meal!
129
51
Teen Rebels
Hugo Gittard
Richard Méril
Zig finds an old skateboard in a crate. It awakens memories, taking him back to when he, Bernie, Sharko and Marina were teenagers, and all they only cared about were stunts on wheels…
130
52
The Moo Can
Hugo Gittard
Anh-tu Cao
Bernie invents a funny toy: a "Moo Box". Totally useless – only Marina thinks it's fantastic! The Moo Box turns out to be an excellent trap… But Sharko wants one of those little boxes for himself!
132
54
An Evil Panda
Hugo Gittard
Boris Guilloteau
Hades is determined to seduce the mermaid yet again. But he's just not her type… So, to approach to his beloved, he changes into an irresistible giant Panda. Zig and Sharko are suspicious – but too late!
133
55
Playtime
Hugo Gittard
Pierre Violot
"Childhood days…" Once upon a time, little Zig, Sharko and Bernie got on like a house on fire, until a gorgeous little mermaid turned up and changed the rules. Marina entered their lives!
134
56
LOL Zig
Hugo Gittard
Anh-tu Cao
A chase between Zig and Sharko ends with the hyena getting covered in pizza. Marina takes a picture and posts it on social networks. Unexpectedly, the photo makes Zig the star of the beach.
135
57
High Wired
Hugo Gittard
Anh-tu Cao
Marina aims to enter the Book of Records by tightrope-walking the longest distance ever. Sharko is terrified of heights… Zig sees an opportunity to nab the mermaid, beyond the shark's reach!
136
58
A Three Pronged Disaster
Laury Rovelli
Louis Musso
Marina thinks she's getting her very own magic trident from her dad on her birthday. Instead, Poseidon gives her a silly gift and falls asleep. Marina brazenly seizes the Ocean King's Trident… and creates total havoc.
137
59
Boing! Boing!
Andrès Fernandez
Louis Musso
A cargo-plane drops its cargo over Zig and Bernie's home: countless crates filled with trampolines! Perfect equipment for a mermaid hunt… a bouncy ride is ahead!
140
62
The Fall
Andrès Fernandez
Cédric Dietsch
Anh-tu Cao
Zig uses a human-cannonball stunt starring Marina as the ball, aiming to fire her into his cargo-plane. But Sharko is watching over her. The canon explodes and shoots all three of them into space. A long fall back to Earth ensues, full of surprises.
141
63
Zig Top Chef
Caroline Torreli
Jérôme Fardini
Sharko is a hopeless cook. He decides to train with the best chef on the island: Zig! They get busy with pots, pans, fresh ingredients and exotic herbs. Marina's right there, eager to taste every dish. But she's the one dish Zig wants to taste...
145
67
Front Runner
Cédric Dietsch
Cédric Dietsch
A plane flies above the wreck and loses its own cargo… ponies! Wow! Zig dreams of nabbing the mermaid on horseback and galloping into the sunset. Only he can't stay in the saddle. Sharko is just as hopeless on horseback…
148
70
Bubble-Gum
Hugo Gittard
Anh-tu Cao
Sharko's romantic plans are thwarted when Marina finds a crate of bubblegum and wants to break the world's largest bubble record.
149
71
VeggieZig
Jean-Louis Momus
Jérôme Fardini
Bernie - disheartened by Zig's ever-ridiculous, vain attempts to catch the mermaid – resolves to put an end to such pathetic demonstrations. With Sharko, he decides to use a pendulum to hypnotise Zig, and persuade him to go vegetarian…
150
72
The Curse
Boris Guilloteau
Laury Rovelli
Anh-tu Cao
A mummy tries – unsuccessfully – to sell charms and knick-knacks on the beach. When the mummy sees Zig (in dreadful shape), it thinks it has found the perfect pigeon, and fobs off a 'magical' talisman.
152
74
Game, Set and Match
Hugo Gittard
Jérôme Fardini
Sharko plays ping-pong with Marina, winning every round. She walks off, fed up. Zig challenges Sharko to a game of… tennis! But Bernie's court lines on Sharko's side are a l-o-n-g way away, giving Zig ample time to nab the mermaid…
153
75
Heat Wave
Andrès Fernandez
Anh-tu Cao
When Hades is in the shower, the volcano-boiler conks out – no hot water. Annoyed, he decides to repair it himself. Under the beach (and on it), Sharko chases Zig… who chases Marina. Same old story, only the 'boiler' bursts and the volcano goes haywire…
155
77
Disco in the Dark
Boris Guilloteau
Cédric Dietsch
Zig finds an odd little box in the jungle, presses a button and finds himself in a parallel world with bizarre physical laws! He exits by pressing the button again… and dreams of going back with Marina.
Season Premiere Airdates Worldwide
October 12, 2015 (Super RTL, Germany)
February 15, 2016 (Disney Channel, Asia)[1]
April 4, 2016 (K2, Italy)
May 9, 2016 (Disney XD, Hispanic America)[2]
June 9, 2016 (Disney XD, Brazil)
August 27, 2016 (Gulli, France)[3]
November 24, 2016 (Youtube)
November 15, 2017 (Cartoon Network, Maroc)
June 9, 2017 (Disney Channel, South Korea) [4]
November 6, 2017 (Disney XD, Poland)
Trivia
This season marks the introduction of the new art style, due to Andrès Fernandez replacing Olivier Jean-Marie as the series director.
Starting with this season, episodes are now 7 minutes and 5 seconds long instead of 6 minutes and 40 seconds long.
Videos